Sloane S. Yu, MD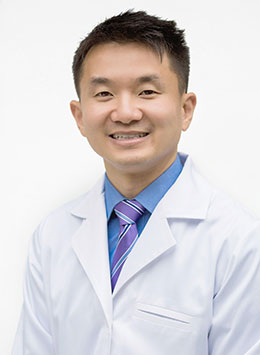 Dr. Sloane Yu joined Allied Pain & Spine Institute in 2018. After graduating magna cum laude from Cornell University, he completed his medical degree at Tufts University School of Medicine in Boston. While simultaneously attending medical school, Dr. Yu also was awarded an accredited MBA at Brandies University Heller School of Social Policy. He continued on to Stanford University for residency in Physical Medicine and Rehabilitation. Seeking additional focus on pain, he completed his advanced subspecialty fellowship in Pain Medicine at Dartmouth-Hitchcock Medical Center. Dr. Yu is board certified in Physical Medicine and Rehabilitation and Pain Medicine.
Beyond his dedication to excellent patient care, Dr. Yu excels in cutting edge medical research and has published multiple articles in peer-reviewed journals, including the top orthopedic Journal of Bone & Joint Surgery, and Journal of PM&R. He is a graduated Howard Hughes research scholar and recipient of the National Institute of Health intramural research training award. His current active research includes low dose naltrexone therapy for chronic pain.
Believing medicine is much more than just prescribing medication, Dr. Yu stresses taking a whole person approach to pain and disease. He specializes in traditional spine and joint pain, and has particular interest in fibromyalgia, chronic headaches, and CRPS. He is trained in traditional and cutting-edge interventional pain procedures, ultrasound guided injections, neuromodulation, non-operative orthopedic, and alternative medicine. He is currently accepting new patients at all Allied office locations and looks forward to helping each individual toward wellness.