James Petros, MD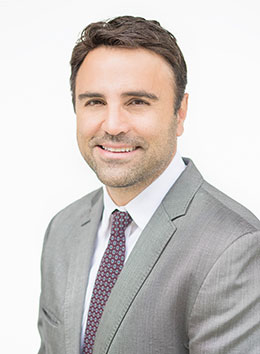 Dr. James Petros is the founder and medical director of Allied Pain & Spine Institute, sub-specializing in interventional pain management and musculoskeletal care.
With his diverse professional and personal backgrounds, Dr. Petros has transcended the sciences of pain and musculoskeletal medicine and captured the art of their practice. His integrated approach and balanced understanding of injury and illness are testaments to his versatility in providing the ultimate in patient care.
Dr. Petros' pursuit of comprehensive pain care has yielded multiple board certifications, with expertise in Physical Medicine & Rehabilitation (Physiatry), Pain Medicine, Internal Medicine and Alternative Medicine.
After graduating at the top of his class at Santa Clara University, Dr. Petros acquired his medical degree at Tulane University with high honors. He then completed a seven-year postgraduate training period that included advanced scholarship in musculoskeletal and pain care at Stanford University School of Medicine.
Dr. Petros is an accomplished clinician, researcher, national author, and regional speaker in the arenas of pain, injury, and functional rehabilitation. A brief listing of his awards & distinctions includes: Patient's Choice Awards, Compassionate Doctor Recognition, Top 10 California Doctor, America's Top Physicians, and Leading Physicians of the World. In 2014, Dr. Petros was nominated for a teaching appointment at Stanford.
Reputed for his cordial demeanor and bedside manner, Dr. Petros delivers state-of-the-art treatment to all patients. He has a proven track record in the proficient diagnosis and personalized treatment of acute and chronic pain (and injury) arising from the spine and the entire musculoskeletal system. He provides detailed consultation and multi-faceted care, incorporating electrodiagnostic testing (EMG/NCS), medication optimization, customized rehabilitation, spinal diagnostic/therapeutic procedures, join/nerve injections, and neuromodulation to achieve superior results.