Parish Vaidya, MD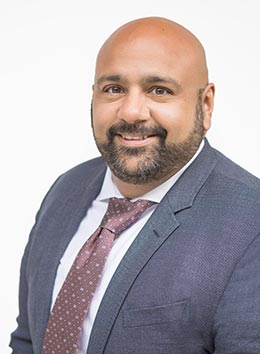 Dr. Parish Vaidya joined Allied Pain & Spine Institute in 2015, bringing with him years of experience in interventional pain management and integrative medicine. His comprehensive approach, diverse skill set, and outstanding dedication to compassionate care set the new standard in modern-day pain care.
Dr. Vaidya has the rare designation of being board-certified in three different fields: Physical Medicine and Rehabilitation, Pain Medicine, and Integrative Medicine. His work in blending these areas of practice has been recognized nationally with America's Top Physicians in both Pain Management and Integrative Medicine.
After completing his undergraduate studies in bio-behavioral health and neuroscience at Pennsylvania State University, Dr. Vaidya was awarded his medical doctorate at Temple University School of Medicine in Philadelphia. He then went on to complete his residency in Physical Medicine and Rehabilitation at the University of Texas – Houston Medical School, and his advanced subspecialty fellowship in Pain Medicine at Baylor College of Medicine. In order to expand his approach to pain care, he also completed a second fellowship in Integrative Medicine at the prestigious University of Arizona – Arizona College of Integrative Medicine, under the direction of Dr. Andrew Weil.
Well-known for his affable personality and sense of humor, Dr. Vaidya specializes in both traditional and cutting-edge interventional pain procedures, non-operative orthopedic, sport, and spine injuries, and electrodiagnostic testing (EMG/NCV). He is currently accepting new and follow-up patients at all Allied office locations, and looks forward to helping each individual's unique journey away from pain and towards total wellness.