In the News
NexGen Health Offers IV Vitamin/Hydration Therapy and Weight Loss Treatments at their New Cutting-Edge Center in San Jose, CA, powered by Allied Pain & Spine Institute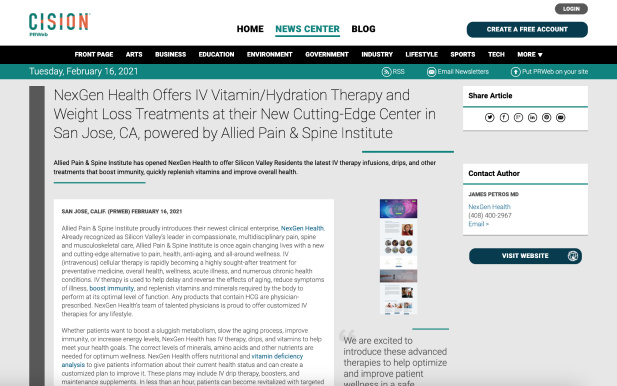 Joe Montana Undergoes High Tech Stimwave Knee Procedure In San Jose
Scott Gottlieb joins Ateon's board, Jonathan Bush named executive chairman of Firefly, and more digital health hires and departures
Alongside news of new funding, VR pain management startup Karuna Labs announced new additions of a chief medical officer and chief technical officer to its management. The former is Dr. James Petros, an interventional pain management and musculoskeletal specialist who is also the founder and CEO of the Allied Pain & Spine Institute. The latter role went to Andy Riedel.
"These important milestones continue to solidify our leading role in changing how chronic pain is treated and patients' ability to regain their quality of life," Lincoln Nguyen, CEO of Karuna Labs, said in a statement. "We're establishing a new first line of defense against chronic pain and remain focused on the lives we're able to change through our technology while reducing the need for invasive procedures and opioid dependence." Read More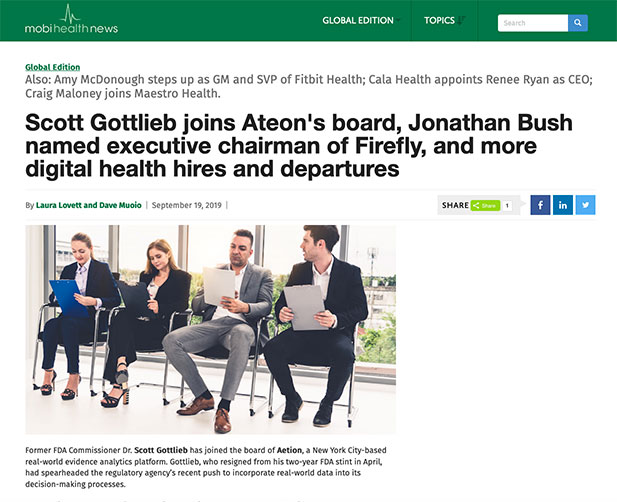 National Radio Interview on Virtual Reality to Treat Chronic Pain Featuring James Petros, CEO of Allied Pain & Spine and Lincoln Nguyen, CEO of Karuna Labs
Allied Pain & Spine Institute Hires New Specialists to Support a Multidisciplinary Approach to Chronic Pain Management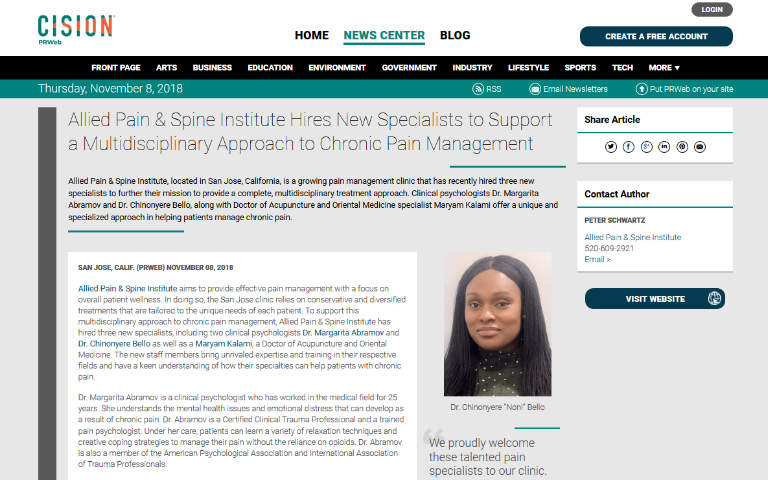 Behind Closed Doors September 29, 2018 – Dr. Kate Balestrieri and Dr. James Petros OF ALLIED PAIN & SPINE INSTITUTE
Triune Therapy Group Announces New Sponsors for its Behind Closed Doors Radio Show: Medical Leaders and Experts James Petros, MD and Benjamin C. Stong, MD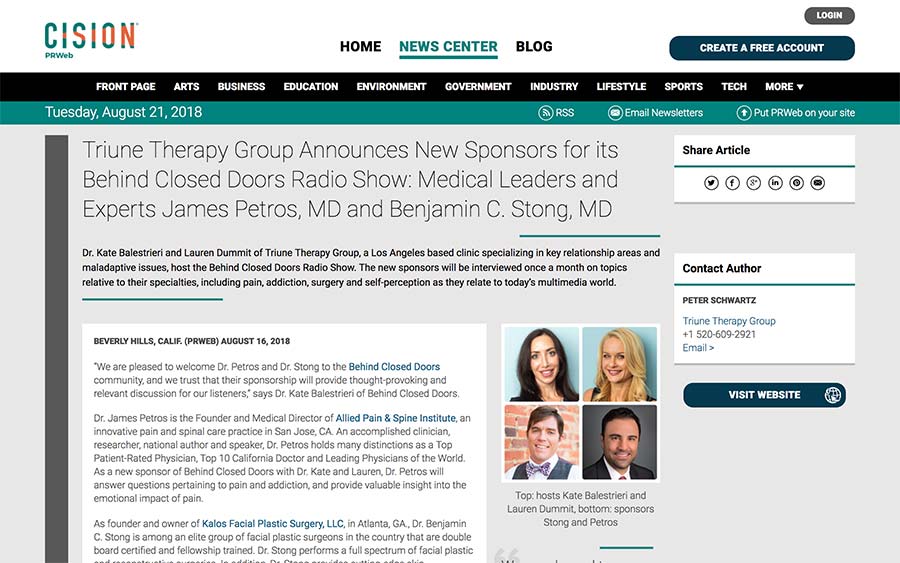 Cutting Edge Allied Pain & Spine Institute Continues Expansion and Hiring – and is Now Offering Pain Management in Chinese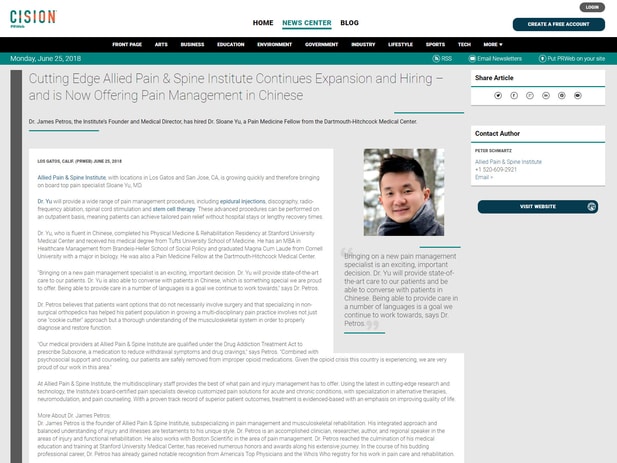 Kim Pagano Show June 9, 2018 – Dr. James Petros, John Bailey, Diana Butler Bass, Giovanni Tromba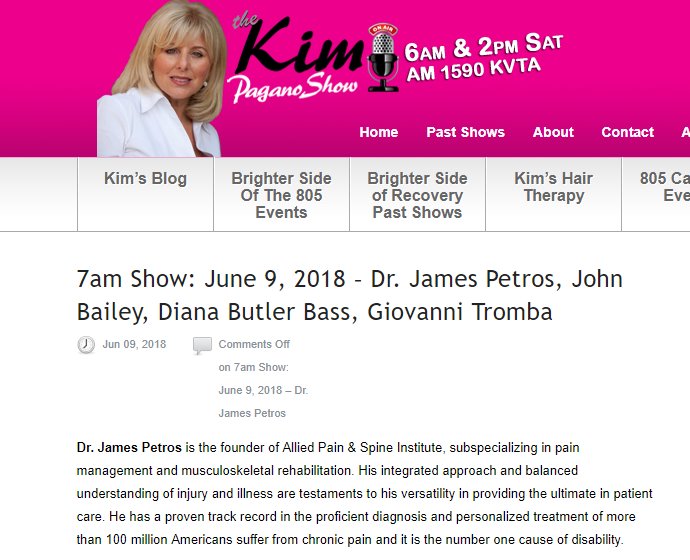 Condados de la Bahía demandan a fabricantes de opioides
Transcript
Contra Costa has joined a class-action lawsuit against several pharmaceutical companies, who are being blamed for the epidemic of opioid addiction in this county. Over to Sandra Bermúdez for more.

Thirty other California counties have now filed a federal court lawsuit against the manufacturers and distributors of opioids. But they're not the only ones: 500 other public entities have done the same, claiming that the pharmaceutical giants misinformed doctors about the addictiveness of certain drugs, exaggerated their efficacy and failed to report suspiciously large opioid shipments to pharmacies.

Attorney John Fiske, who represents Contra Costa County, says the purpose of the lawsuit is mainly to recover the money that local governments have allocated to tackle the epidemic of opioid addiction, whether for medical care, incarceration or rehabilitation services.

The lawsuit, which runs to more than 300 pages, mentions Department of Public Health figures which show that deaths from overdoses of painkillers have tripled nationwide in the past ten years.

Many clinics are unable to treat patients with chronic pain, so they go looking for medications on the street, says Dr. Petros from the Allied Pain & Spine Institute.
This center provides alternative treatments to opioids for pain management.

One of his patients is this man, who a couple of decades ago had an accident at work, and since then has been suffering from chronic back pain.

He says that there came a time when he couldn't even work or leave his home, but was afraid to take pills because he was aware that he could become addicted. But, like him, there are many people whose pain goes beyond the physical.

Lots of people suffer from depression and anxiety due the pain. They are at a very low point, saying that they can't go out for a walk or a drink or to the shops, and end up spending all day in bed.

And for these patients, the lawsuit filed by Contra Costa County is also calling for a fund to set up education and prevention schemes against addiction to prescription drugs, which are claiming more lives than ever before.

Sandra Bermúdez, reporting for Telemundo 48.
Allied Pain & Spine Institute Announces the Opening of New Cutting-Edge Surgery Center in Silicon Valley