Bryan McCleve, MD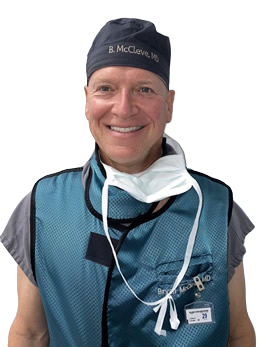 Dr. Bryan McCleve is a board-certified Anesthesiologist who joined Allied Pain & Spine Institute in 2020. He works primarily through Allied's affiliated ambulatory surgery center, serving as co-director of Anesthesia Services at Trinity Surgery Center.
Dr. McCleve attended Stanford University for his undergraduate studies, and as a student-athlete, competed at the highest levels in springboard diving. He was awarded his Medical Doctorate at University of Utah School of Medicine before setting off for specialized training in anesthesia– with emphasis in acute pain management, regional anesthesia, and pediatric anesthesia– at the Medical College of Virginia.
After completion of his training in 1993, Dr. McCleve returned home to the Bay Area where he has stayed since. He has had a most remarkable professional journey, providing anesthesia at every level of complexity and serving as medical director of surgery centers. He has even been known to fly his own plane (as a pilot) to and from work in the past.
The popular and easy-going Dr. McCleve is a stabilizing professional presence who helps to set apart the Allied and Trinity "experience" for everyone around him. As an experienced anesthesiologist, at the top of his field, Dr. McCleve brings mastery-level versatility and skill to Trinity Surgery Center, making every patient's procedural and surgical anesthetic experience the safest and most comfortable it can be.
Among his many hobbies and interests away from work, Dr. McCleve has special affinity for surfing, hiking, camping, poetry, mushroom hunting, mountain biking, languages, and history.