Rachelle Dudero Perez, PA-C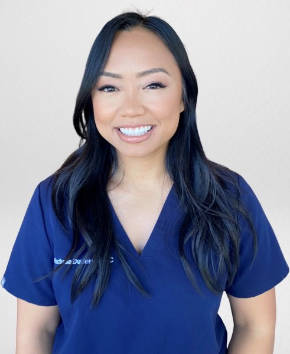 Rachelle Dudero Perez is a board-certified Physician Assistant specializing in Pain Medicine. She joined Allied Pain & Spine Institute in 2020.
Born and raised in the Bay Area, Rachelle earned her Bachelor of Science degree in Kinesiology with an emphasis in Athletic training and minor in Nutritional Sciences from San Jose State University. Rachelle had always had an interest in sports/musculoskeletal injuries and a passion for functional rehabilitation. During her undergraduate studies, Rachelle interned with the San Jose State University football sports medicine staff. There she was able to learn how to respond to acute sport injuries and observe multiple treatment options. While applying for graduate school, she accumulated numerous hours as a physical therapy trainer assisting patients with rehabilitative and corrective exercises as well as applying therapeutic modalities to help promote healing and to manage both acute and chronic pain. She then proceeded to earn her Master of Physician Assistant Sciences degree at Saint Francis University in Loretto, Pennsylvania. There she gained clinical practice experience in many different specialties to include Trauma/General Surgery, Emergency Medicine, and Orthopedics.
As a Physician Assistant at Allied Pain & Spine Institute, Rachelle works in collaboration with staff physicians to provide quality care using a multidisciplinary approach to pain management.
In her spare time, Rachelle enjoys training in muy Thai kickboxing, spending days outdoors, trying new restaurants and relaxing with her two Maltipoos.
She is accepting new patients at all Allied locations and looks forward to providing relief and treatment to everyone.