7 Causes of Sciatica Symptoms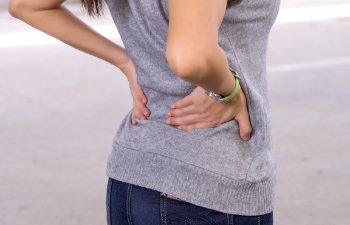 Sciatica is a condition where the sciatic nerves are compressed or irritated, causing symptoms that range from the lower back and extend down to the leg and feet. Sciatica is not a disease but a combination of symptoms involving the two large sciatic nerves that are caused by a wide variety of spine conditions and lifestyle factors.
The sciatic nerves exit the lumbar spine in the lower back and travel down through the pelvis and into each leg. When either of these nerves is compressed, sciatica symptoms can occur which include:
Low back pain
Burning sensation down the leg
Hip pain
Leg weakness
Tingling or numbness in the leg or feet
Conditions that cause sciatica can be in the spine, soft tissues, pelvis, or SI joint. Here are seven common causes of sciatica symptoms.
1. Herniated. Slipped, or Bulging Disc
The soft, spongy spinal discs can be damaged from injuries or wear, causing them to bulge. A herniated disc can protrude into the spinal space where the sciatic nerves exit the spine, also called a slipped disc. If the disc presses on either nerve, it can cause pain and other symptoms on that side of the lower back and body.
2. Spinal Osteoarthritis (Spondylosis)
Inflammation in the spinal or facet joints can cause sciatica. This is a degenerative disease that is very common and affects millions of older adults.
3. Spinal Stenosis
The inside of the spine has space to allow the nerves to extend from the spinal cord without hindrance. Spinal stenosis is a condition where this space narrows, often from bone spurs, scar tissues, and other issues. This can irritate or compress the sciatic nerve roots inside the spine.
4. Pregnancy or Weight Gain
Excess weight can put extra pressure on the lumbar area where the sciatic nerves exit the spine and travel down each side of the lower body. Sciatic symptoms are common in pregnant women and anyone carrying excess weight.
5. Piriformis Syndrome
The piriformis muscles in the upper buttock area can be inflamed and put pressure on the sciatic nerves. The symptoms may start lower than spinal conditions, causing pain and radiating symptoms in the buttocks, hips, or legs.
6. Sitting or Sleeping Issues
If you sit for long periods or sleep on a poor mattress, you may experience sciatica symptoms. Staying in the same position for too long without proper support can compress nerves in the lower back or pelvic area.
7. Diabetes
Diabetes affects blood sugar levels which can cause many types of nerve problems. High blood sugar can damage the nerves, including the sciatic nerves. Uncontrolled diabetes can result in sciatica symptoms.
Sciatica can be very painful and restrict mobility and restful sleep. If you have sciatic symptoms and want relief, come see us at Allied Pain & Spine Institute. We can help to diagnose the cause of your sciatica and find the best treatment for relief.
Posted on behalf of Allied Pain & Spine Institute