Yetinayet Dagne, NP-BC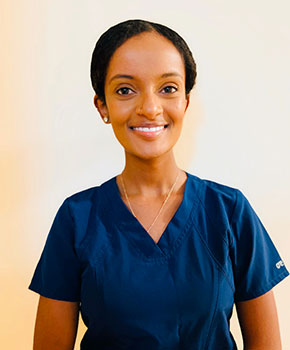 Yetinayet Dagne is a board-certified Family Nurse Practitioner specializing in pain medicine. She joined Allied Pain & Spine Institute in 2022.
Yetinayet was born in Ethiopia and raised in the Bay Area for the past 20 years. She attended San Jose State University where she earned her Bachelor of Science degree in Nursing with a minor in Psychology in 2016. During her undergraduate studies, Yetinayet worked as caregiver for geriatric clients and further expanded her knowledge in patient care. As a fully accredited and licensed registered nurse with over four years of experience, Yetinayet brings both inpatient and outpatient medical knowledge. She has worked at El Camino Hospital for over five years. She began her career there as a nursing assistant while she was in nursing school and advanced her role as a new graduate RN in 2017. Yetinayet works as a registered nurse on a surgical unit, a fast-paced environment with an emphasis on various orthopedic, GI (including bariatric), and neurovascular surgeries. In addition, she works with a diverse patient population, ranging from pediatric to geriatrics patients, with various medical and psychosocial needs.
In 2021, Yetinayet earned her master's degree in nursing and obtained her license as a board-certified Family Nurse Practitioner. She accumulated numerous hours working alongside physicians in family medicine and pediatrics settings. During her clinical experience as an FNP student, she was given the opportunity to work alongside physicians and helped manage a wide variety of acute and chronic medical conditions. She also spent time at Kings County School District conducting pre-participation sport physicals for high school students who did not have access to primary care. Through her clinical experience, Yetinayet has developed foundational knowledge and skills in patient counseling, education, and treatment planning, making her a valuable addition to our team.
As a Nurse Practitioner at Allied Pain & Spine Institute, Yetinayet works alongside staff physicians to address various complex pain conditions and utilizes evidence-based practice to provide appropriate care.
In her spare time, Yetinayet enjoys painting, hiking, and traveling. She is bilingual in English and Amharic.
She is currently accepting new patients at all Allied locations and looks forward to serving her community.