Reshmi Rajan, DPT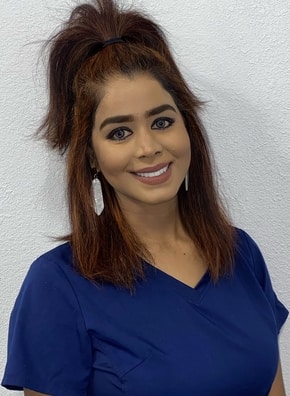 Reshmi Rajan joined Allied Pain & Spine Institute in late 2019 as a Doctor in Physical Therapy (DPT). Following completion of her professional degree from Loma Linda, California, Reshmi garnered valuable experience and honed her skills by working in diverse therapy settings ranging from outpatient settings to skilled nursing facilities in San Jose, Gilroy and Campbell. She is well-versed in performing comprehensive evaluations and treating a wide variety of orthopedic, sport, spine, neurologic, disability, and post-surgical issues.
Reshmi is an integral part of Allied's collaborative treatment approach. Her expertise includes but are not limited to therapeutic exercise, manual therapy, proprioceptive training, stabilization programs, vestibular rehab, soft tissue mobilizations, patient education, neuromuscular reeducation, work conditioning, kinesio-taping, biofeedback, spinal stabilization, sports retraining, and functional strengthening. She supervises physical therapy assistants/aids and participates in developing initial and ongoing treatment regimens as well as discharge plans. She consistently obtains very high patient satisfaction scores.
She was born and raised in India before moving to the United States in 2012. In her spare time, she enjoys hiking, spending time with my family and friends and cooking. One day, she would like to travel to Switzerland.
Reshmi is currently accepting new patients and looks forward to providing relief and treatment to everyone.