Jessica L. Zhang MD, MBA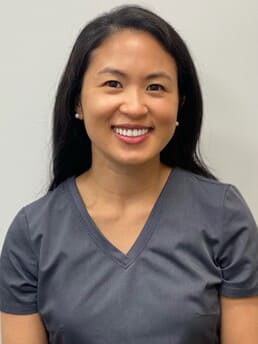 Dr. Jessica Zhang is board certified anesthesiologist with board eligibility in Pain Medicine. She received her medical degree at the University of Connecticut along with a Masters in Business Administration. Dr. Zhang then completed an anesthesiology residency at Dartmouth Hitchcock Medical Center where she trained under world renowned experts in ultrasound guided injections. During her time there, she also conducted research on low dose naltrexone which she later presented at an American Society of Regional Anesthesia annual conference. She has also conducted research on Parkinson's disease at the National Institutes of Health. She then completed her fellowship in pain medicine at Mt. Sinai West/Morningside in NYC where she had broad training in all areas of pain management. Notably, she worked with one of the few physicians who specializes in pelvic pain management.
Dr. Zhang sees patients for all pain conditions but maintains a special interest in pelvic pain treatment. She approaches the patient holistically to come up with an individualized plan that addresses both pain and overall wellness.
Originally from Connecticut, she enjoys spending time with her family, cooking, gardening, and traveling.
She is currently accepting new patients at all Allied office locations and is eager to work with her patients on their journey to a healthier and more functional life.