Dr. Priyanka Ghosh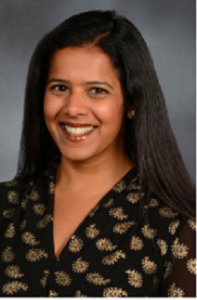 Dr. Priyanka Ghosh joined Allied Pain & Spine Institute in 2020. After graduating from Brown University with her dual degree with Honors in both Neuroscience and Literary, she completed her M.D with Distinction at the University of California, San Francisco (UCSF). While simultaneously attending medical school, Dr. Ghosh continued to pursue her passion for research with a highly competitive and prestigious National Institute of Health (NIH) funded research fellowship, in which she independently designed and executed a clinical trial utilizing novel technology to treat pain in patients with head and neck cancer. She continued on to complete her residency at Harvard Medical School in the Department of Anesthesia, Critical Care and Pain Medicine at Beth Israel Deaconess Medical Center (BIDMC). During her residency, she not only trained with leaders in the field, she also continued to excel in clinical research and gave numerous poster and oral research presentations at local and national meetings and published numerous peer-reviewed publications, and served in leadership roles in multiple pain medicine societies.
She then went onto the prestigious Weill Cornell Tri-Institute Pain Fellowship, where she trained at three of the nation's leading hospitals: Memorial-Sloan Kettering Cancer Center, Hospital for Special Surgery, and New York Presbyterian Hospital. During her fellowship, she received the very prestigious "Fellow of the Year" Award from the American Society of Regional Anesthesia and Pain Medicine (ASRA), which is awarded annually to only one fellow in the country. In addition, given that New York was the epicenter of the COVID-19 pandemic, she volunteered to serve as an intensive care unit physician in the COVID-19 ICUs in Manhattan while continuing her pain medicine training!
Dr. Ghosh is an expert in interventional pain therapies for complex orthopedic conditions, arthritis, and injuries including post-surgical pain, CRPS, and complex joint and spine issues, which was honed during her training at Hospital For Special Surgery, the #1 orthopedic hospital in the country. She also has unparalleled expertise in interventional cancer pain, ranging from neurolytic blocks to placement of intrathecal pumps, stemming from her training at Memorial Sloan Kettering, the top cancer hospital in the country. In addition to these specialized areas of expertise, she has specialized training in treating head, neck, and facial pain, pelvic pain, and abdominal pain.
In addition to her clinical interests, she holds leadership positions at the American Society of Regional Anesthesia and Pain Medicine (ASRA), American Society of Pain and Neuroscience (ASPN), Pacific Spine and Pain Society (PSPS), WIPM(Women Innovators in Pain Medicine), World Academy of Pain Medicine United (WAPMU) and American Society Of Interventional Pain Physicians (ASIPP). Her research is published in numerous prestigious journals, and she also serves as a reviewer on editorial boards of multiple pain journals including Pain Medicine and the Annals of Clinical and Translational Neurology. Her clinical and research interests include conducting cutting edge research on novel advanced, interventional techniques combined with research interests in advancing health technology to better serve her patients and the medical community as a whole!